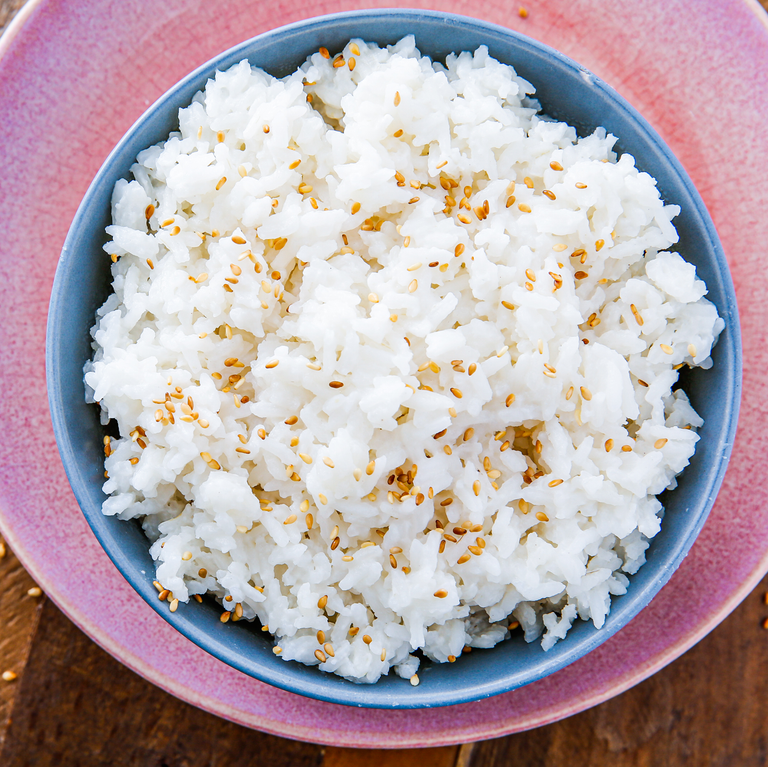 Coconut rice is a Thai style rice that uses a slightly different method than you would normally use to cook rice. Typically, you would bring the water to a boil first before adding the rice, but for coconut rice you bring the milk, water, and rice all to a boil together. It creates a slightly sticky, much more flavorful rice that we want to eat with everything. Especially with chicken curry and our favorite pineapple baked salmon.
Is this your new favorite rice recipe? Let us know in the comments and don't forget to rate it! YIELDS:6 SERVINGSPREP TIME:0 HOURS 10 MINSTOTAL TIME:0 HOURS 40 MINSINGREDIENTS2 c.
long grain rice, rinsed and drained1
(14-oz.) can coconut milk1 1/2 c.
water1 tbsp.
granulated sugar2 tsp.
kosher salt
Toasted sesame seeds, for garnish (optional)This ingredient shopping module is created and maintained by a third party, and imported onto this page. You may be able to find more information about this and similar content on their web site.GET INGREDIENTS Powered by Chicory DIRECTIONS
In a large pot over medium heat, combine rice, coconut milk, water, sugar, and salt. Bring to a boil, then reduce heat, and let simmer, covered, 18 to 20 minutes or until rice is tender.
Remove from heat and let sit 10 minutes, then fluff with a fork. Serve topped with sesame seeds, if desired.
You can read Full Here: https://www.delish.com/cooking/recipe-ideas/a28225321/coconut-rice-recipe/